Med hårde sko udfører Green Steps imponerende rytmesekvenser og i bløde sko løfter de sig højt over scenegulvet i yndefulde og graciøse spring til de traditionelle irske rytmer: jig, reel, hornpipe og slip jig. Armene holdes tæt ind til kroppen mens energierne fra den swingende musik udløses gennem forrygende irsk stepdans. Green Steps forener det visuelle med det musikalske og deres tempofyldte leg med trin og rytmer imponerer og er en fryd for både øjne og ører.
IRSK AFTEN eller KONCERT med
The Early House & GREEN STEPS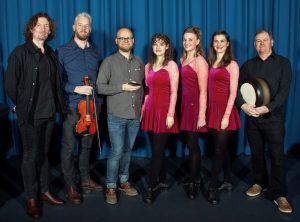 The Early House & Green Steps er en koncertoplevelse med forrygende irsk musik og stepdans. Bandet The Early House spiller med høj energi og masser af swing. De formår at sætte gang i den med deres musik og muntre lune. De består af Paddy Lawless på violin , Joel Andersson på mundharmonika, Martin O'Hare på bodhrán og Doyle på sang og guitar. Green Steps Irish Dance Ensemble optræder med moderne irsk stepdans i originale koreografier til bandets musik.
EVENTS med GREEN STEPS
Green Steps kan bookes til en optræden til virksomhedsarrangementer eller private arrangementer med og uden live band og med mulighed for undervisning i irsk fællesdans. Lav en bookingforespørgsel her…
GRÁ – En irsk musik- og danseforestilling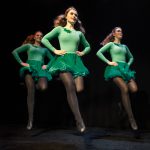 Kom med til Irlands grønne bakker og elverfyldte mytologi med musik- og danseforestillingen Grá.
I "Grá" smelter fortid og nutid sammen, når traditionelle irske folkemelodier nyfortolkes og kombineres med nye dansekoreografier. Dansekompagniet Green Steps indtager scenen med energifyldt irsk stepdans og elegante soft shoe koreografier.
Forestillingen består af små fortællinger fortalt gennem sang, musik og dans. På scenen er fem dansere, et levende orkester og den anmelderroste sanger, fløjtespiller, koreograf og danser Marianne Green, som står bag "Grá". Læs mere….